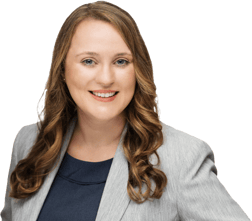 Lindsey Lawton works with The Brownlee Law Firm in an of-counsel capacity. To this role, she brings over 13 years of experience with appeals and an even longer history of dedication to the crafts of writing and communication.
Lindsey graduated magna cum laude from the University of Georgia in 2004 with B.A. degrees in English and Spanish, and she graduated cum laude from the University of Florida Levin College of Law in 2007. Lindsey then spent the first 13 years of her career as a lawyer working behind the scenes in the Florida Court System.
Most recently, Lindsey served as a career staff attorney for the Honorable C. Alan Lawson of the Florida Supreme Court. Before her time at the supreme court, Lindsey worked for nearly 10 years at Florida's First District Court of Appeal as a law clerk and staff attorney, first for the Honorable Joseph Lewis, Jr., and then for the Honorable Stephanie Ray.
She is now an appellate advocate for her own law firm, Lawton Law, PLLC, and for The Brownlee Law Firm.
Currently, Lindsey is a master member of the First District Appellate American Inn of Court, where she regularly collaborates with other attorneys to create and present continuing legal education programs pertaining to appellate practice. She is also a member of the Florida Bar's Appellate Practice Section.
Lindsey previously served in a number of roles for the Tallahassee Women Lawyers (TWL) and the statewide Florida Association for Women Lawyers (FAWL):



"Breakfast and Books" Program Chair

Mentoring Co-Chair for TWL

TWL's Chapter Representative to FAWL

Contact The Brownlee Law Firm
Since your appeal is likely your last chance to preserve a hard-fought victory, or to snatch victory from the jaws of defeat, it's important to contact us today to find out more about your opportunity for appeal.